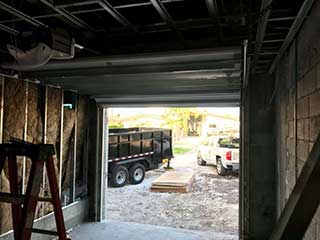 Is insulating your garage door worth it? There are many factors to take into consideration before making this important decision. Most of us don't consider our garages an actual part of our house, however if you have an attached storage unit, the condition inside it may affect the rest of your home in some way. While heat transfer reduction is usually the main reason for purchasing an insulated garage door, there are other benefits.
Lowering Your Energy Bills
The most obvious benefit is to have a better control of your desired indoor air temperature. While you may not actually use your garage as a living space, you should still consider and treat it as a part of your house. Even basic insulation can help keep your garage comfortable all year round and will help to prevent drastic changes in temperatures that usually result in higher energy bills.
Protecting Your Belongings
Fluctuations in temperature can damage some of your stored belongings, and it would be prudent of you to try and keep them as safe as possible, not only from intruders, but from harsh temperature as well. These variations can result in moisture that may introduce mold and mildew which can really damage and ruin clothes and all sorts of materials. By getting an insulated garage door, you will be able to keep the temperature and moisture at a consistent level more easily, which will also help keep the contents of your garage in better condition.
Sound Proofing Is Also Worth Thinking About
Insulating your garage door is not just about temperature and moisture control. Good insulation will also keep things more quiet. This is particularly important if you live in a high traffic area. An insulated door will, at the very least, muffle the sounds so that the inside of your home will stay a little more peaceful. Similarly, if you have somewhat of a boisterous family, you probably wouldn't want to let the entire neighborhood know what is happening inside your home.
In The Long Run
Considering garage doors tend to last for many, many years, that initial investment that may cost a little extra in the beginning, will save you a great deal of money as time goes by. Contact our team at Garage Door Repair Steiner Ranch to consult with us on which type of insulation is going to be best suited for your needs.