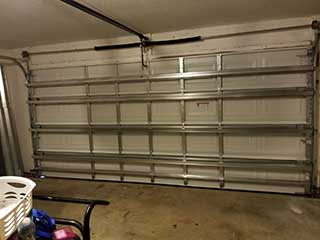 Unfortunately, some of the most important parts of your automatic garage door system are also the most dangerous ones. The springs are in charge of helping raise and lower the panels, but because of that they are under a lot of tension, and will gradually wear until they eventually break. When this happens you'll need to replace them. Actually, you'd be better off getting them replaced much sooner, to avoid potentially dangerous accidents. When garage door spring replacement is called for, there's no one better to turn to than our expert technicians.
The Intricacies Involved
The springs your overhead door uses belong to one of two types. Extension units can be recognized due to the fact that they are installed in pairs, one on each side of the upper part of the door. They work by stretching as the panels lower, becoming loaded with tension, and then contracting in order to raise the door back up. Torsion springs work differently. Oftentimes, a single unit can suffice, due to their enhanced strength and flexibility. They are installed above the door, horizontally, and work by twisting and conveying their stored tension to drums that wind and unwind cables that are attached to the bottom panels.
The Potential Dangers
As you can see, the way these units work is quite complex, and when it comes time to replace them, things can get a little risky, especially if you don't know exactly what you're doing. If a spring isn't adjusted correctly, it could break, which would result in a violent release of tension that can seriously injure anyone standing nearby. That's why dealing with these components is something that's best left to the experts.
That's Where We Come In
When you find yourself in such a need, don't try to handle things by yourself. Instead, give our team at Garage Door Repair Steiner Ranch a call and let our professional technicians take care of all your spring related problems.
Want more? Let us take care of:
Door Opener Troubleshooting Services
Garage Door Opener Track Maintenance
Garage Door Extension Spring Replacement
Broken Garage Door Track Repair