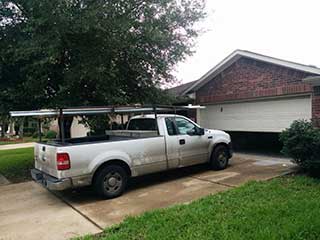 An automatic garage door has a lot to offer you in terms of convenience and security. It can also significantly improve the curb appeal of your home, and potentially even add a zero or two to its market value. In order to ensure the system remains functional, though, maintenance will be required. Our technicians can perform a variety of adjustments and repairs that will see to it that all the different components are fully functional and that a lot of potential problems are prevented.
The Main Focus
Seeing as they are the parts that are under the highest amount of stress, your garage door springs need to be the focus of some extra attention. This includes lubricating them, adjusting their tension to alleviate their working strain, and inspecting their coils for deformations and corrosion. The lift cables will also be examined for any fraying or visual damages. If any unit is found to be in bad shape, it will be replaced right away.
Testing Operational Safety
While a garage door opener – which is the device that automates the operation of the system – can add an aspect of convenience and security to your home, it is still just a machine, and therefore it needs to be tested to ensure it's still safe to use. A garage door can weigh upwards of three hundred pounds, so the condition of your opener safety sensors must be flawless. Their alignment is also very crucial, as they could fail to detect an obstacle if they get out of position. Our technicians will test to make sure the door reverses when something is blocking its path, and that the photoelectric eyes are facing each other and that their lenses aren't dirty or scratched.
Longevity Is The Goal
Not only will regular maintenance help you avoid a lot of annoying and costly garage door problems, it will also extend the system's overall lifespan. When one part breaks down, there are other components that suffer via collateral damage. Therefore, by making sure every part is taken care of, you're ensuring the entire system will be able to continue functioning for a lot longer than it otherwise would.
The Service You Deserve
Give our team at Garage Door Repair Steiner Ranch a call today and let our maintenance experts make sure your door is in great working condition, and that it's able to stay that way for a very long time.
We also offer the following:
Roll up Garage Door Maintenance
Opener Remote Clicker Replacement
Broken Spring Replacement & Repair
Garage Door Cable & Track Repairs